Portland, Oregon (May 22, 2023) — Comikey is pleased to announce the launch of "ENDO" (エンド),  a manga from Shogakukan's MangaOne division. The series has been adapted to manga format by author-artist Giuseppe Durato (Peppe). It tells the life story of Fosco Maraini, who together with his wife Topazia Alliata and their three children Dacia, Yuki and Toni, were interned in a prison camp near Nagoya during WWII.
The company is also excited to share it has licensed 12 popular SQUARE ENIX titles, including "Smoking Behind the Supermarket with You" (スーパーの裏でヤニ吸うふたり). The series is planned for launch on the 23rd of May, 2023. The story is about a middle-aged, overworked office worker, who finds solace in a supermarket worker's smile, who is invited to smoke behind the building with a mysterious girl in a biker jacket.
---
ENDO
Japanese: エンド
Summary: It's the early 20th century. The Italian man, Fosco Maraini, came to Japan with his family as a scholar in an era when you could hear the step of military boots in the streets. He got on well with his Japanese neighbors and life was peaceful.
Then, all of that came to an end. Changes in the political situation between Japan and Italy meant that he and his family suddenly became prisoners of war as 'enemy aliens.' Arrested and sent to a concentration camp, the thing they really wanted to protect was...
This is the story of a real family who fought against their fate during the massive upheaval that changed the world.
Author & Artist: Peppe
Publisher: MangaOne
Release Date: May 22nd, 2023 PST
---
The following SQUARE ENIX manga are localized by Comikey and released on the Company's website, as well as iOS and Android mobile apps. Due to popular demand, these titles will be available on the platform in uncensored format.
Smoking Behind the Supermarket with You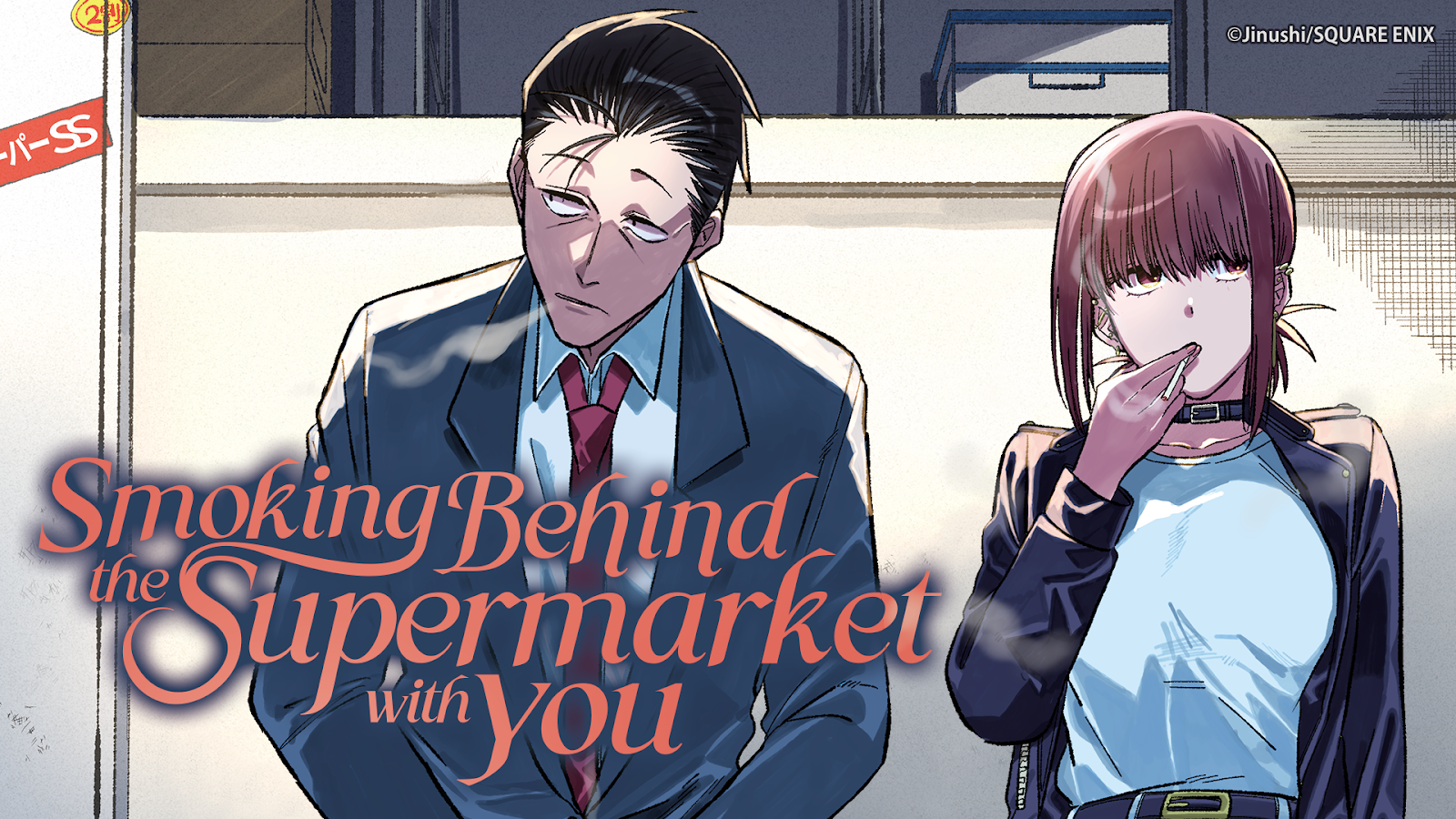 Japanese: スーパーの裏でヤニ吸うふたり
Summary: Meet Sasaki, an overworked, middle-aged office worker. His days are marked only by the passing of more unrewarding corporate drudgery. Smoking helps take the edge off, but other than that, the only bright spot of his day is when he goes to the nearby supermarket and sees Yamada's smiling face. So, one evening after yet another exhausting day, he heads to the supermarket to find he missed Yamada's shift. Dejected, he decides to go find a smoking area but discovers there isn't one to be found. Just as he's about to leave, a girl in a biker jacket named Tayama asks him to join her at a secret smoking area!
Author & Artist: Jinushi
Publisher: SQUARE ENIX
Release Date: May 23rd, 2023 PST
---
In Her Fifth Life, the Villainess Lives With the Evil Dragon -The Evil Dragon of Ruin Wants to Spoil His Bride-
Japanese Title: 悪役令嬢、五度目の人生を邪竜と生きる。 ー破滅の邪竜は花嫁を甘やかしたいー
Summary: The countess, Musee Schnorr, has died four times, with both time and her life rewinding after each death. After her last death, her fifth life begins anew with the betrayal of her fiance. When pushing away the despair of her many tragic ends, someone she encountered during her fourth life comes to mind. He was the only person saddened by her death, and the very one who will destroy the world—The Evil Dragon of Ruin. Now, the curtain rises on Musee and the Evil Dragon's broken love, along with their sweet revenge.
Creators: Rine Shimada, Itsuki Azumaya
Publisher: SQUARE ENIX
Planned Release: 5/24/2023
---
Beast Tamer
Japanese Title: 勇者パーティーを追放されたビーストテイマー、最強種の猫耳少女と出会う
Summary: This fantasy story conveys the bond between a beast tamer and the strongest cat girl starting from their first meeting!
Rein, a beast tamer who fights with the help of animals, has been a member of the hero's party for the longest time. However, unbeknownst to him, he was dragging down his teammates because he had no other abilities.
"You have no worth outside of taming animals. You're fired."
With that, he was kicked out of the party. At that moment, Rein no longer wanted anything to do with saving the world and decided to live for himself. Once he set out to become an adventurer, he met a girl from the cat tribe, a tribe believed to be part of the superior race. Meanwhile, the hero's party was unaware they were only able to fight the Demon King's army all along because of Rein's power...
This story is about how the oppressed beast tamer met his destined comrades and formed bonds with them all.
Creator: Suzu Miyama, Moto Shigemura
Publisher: SQUARE ENIX
Planned Release: 5/25/2023
---
I'm the Only Monster Tamer in the World and Was Mistaken for the Demon Lord
Japanese Title: 世界でただ一人の魔物使い ~転職したら魔王に間違われました~
Summary: After a long journey, Noa finds the "Class Change Book". He's done all to abandon his bothersome "Hero" role and gain a new class... "Monster Tamer"
Creators: Senri Kakei, Norio Doujima, hu-ko
Publisher: SQUARE ENIX
Planned Release: 5/26/2023
---
I Was Called Inept at Home, but Turns Out I'm Super Adept Compared to the Rest of the World
Japanese Title: 家で無能と言われ続けた俺ですが、世界的には超有能だったようです~
Summary: Noah was raised by his exceptionally capable older sisters. He leaves his home to the nearby city to become an adventurer, but every time he performs he shocks those who witness him with wonder... "Wait? Am I actually strong...?" He really shouldn't be surprised by his abilities when all five of his older sisters that raised him are the worlds greatest in their respective fields! He has unbelievable potential! Here begins Noah's shining new life getting the acknowledgment he deserves, but his older sisters are chasing after him...? He who was supposed to be inept is actually a super rookie! Noah's life as an adventurer begins!!
Planned Release: 5/27/2023
Creators: kimimaro, Masashi Suzuki, Mokyu
Publisher: SQUARE ENIX
---
I Time-Traveled and Confessed to My Teacher Crush
Japanese Title: 高2にタイムリープした俺が、先生に告った結果
Summary: Seiji Sanada, a 30-year-old wage slave, woke up one morning and had time leaped back to the spring of his sophomore year of high school. Seiji, who had long regretted graduating without confessing to his beloved world history teacher, Haruka Hiiragi, resolved that this time, he'd confess to her. Her response was... An astonishing 'Okay'?!?!?!?! The two of them began discretely dating. It was supposed to be the start of their *vie en rose*... but Hiiragi-sensei is a woman so sweet, she'll spoil her man rotten!!! A super flirtatious rose-colored school life begins!!!
Creators: Kennoji, Komikan Matsumoto, Yasuyuki
Publisher: SQUARE ENIX
Planned Release: 5/28/2023
---
Immoral Guild
Japanese Title: 不徳のギルド
Summary: An incompetent martial artist, a crabby white mage, a lazy black mage, and a drunk warrior. These four newbie guards confront monsters to protect the peace of their town. Our heroines continue to be humiliated day after day in this controversial(?) story!
Creators: Taichi Kawazoe
Publisher: SQUARE ENIX
Planned Release: 5/29/2023
---
Always a Catch
Japanese Title: 逃がした魚は大きかったが釣り上げた魚が大きすぎた件る。
Summary: From a very young age, people noticed that Maria, the youngest daughter of a duke, was filled with potential. She was raised as the heiress of her house, until the birth of her baby brother relieves her of her duties. She scrambles to find a husband, but all the eligible bachelors in her duchy are taken!
At this rate, she's doomed to the life of a spinster!
Maria decides to study abroad in Rubini in hopes of finding a husband, with the help of her distant relative, Aida. But in a twist of fate, the Crown Prince breaks of his engagement with Maria, even though they've never met before!
"Huh?! I don't remember getting engaged!?"
Enjoy this fluffy romcom with a late-blooming villainess!
Creator: Mayo Momoyo, Itsuki Mito, Kaki Nagato
Publisher: SQUARE ENIX
Planned Release: 5/30/2023
---
The Perks of Working in the Black Magic Industry
Japanese Title: 若者の黒魔法離れが深刻ですが、就職してみたら待遇いいし、社長も使い魔もかわいくて最高です!
Summary: Franz, a fledgling mage on the verge of graduating from magic school, is having no luck lining up a job in the White Magic field. Fearing unemployment, he decides to interview at a Black Magic company on the advice of his dorm mother, even though working with Black Magic is said to be the 3 Ds: Dangerous, Disgusting, and Dirty. Turns out? It's more like the 3 Ps: Pure, Pleasant, and Permissive!
Creators: Kisetsu Morita, Koki Izumi, 47AgDragon
Publisher: SQUARE ENIX
Planned Release: 5/31/2023
---
Demoted to a Teacher, the Strongest Sage Raises an Unbeatable Class
Japanese Title: 左遷された最強賢者、教師になって無敵のクラスを作り上げる
Summary: Monsters have long threatened humanity's existence. To fight against these beings, Keith, the youngest person to ever become a sage, joins a knight order and shows immense success on the battlefield. However, that doesn't last long, as a quarrel with an incompetent higher-up gets him fired from the order. With nowhere to go, Keith is assigned as a teacher, and with his talent for bringing out the best in his students, his class is about to reach unbelievable heights...
Creators: Ichi Suzumori., Monika Kaname
Publisher: SQUARE ENIX
Planned Release: 6/1/2023
---
La La La
Japanese Title: ラララ
Summary: Salaryman Kirishima Shirou (24 years old) was suddenly laid off. Drinking his sorrows away at a bar one night, he was approached by Ishimura Ai (28 years old), a mysterious and attractive woman who offered him a new job. He signed the contract then and there but discovered the next day that it was actually a marriage certificate and he's now a full-time househusband! Is this the deal of a lifetime, or did he fall into some sort of trap?!
Creators: Renjuro Kindaichi
Publisher: SQUARE ENIX
Planned Release: 6/2/2023
---
Arachnid
Japanese Title: アラクニド
Summary: Arisu is a high school student who faces bullying at school and abuse at home by her uncle. One day, she witnesses her uncle being killed by an assassin called "Arachnid." Thinking that she'll be killed next, Arisu has no choice but to fight back. Soon after, she wakes up at Arachnid's house, and he takes her in as his deadly apprentice.
Creators: Shinya Murata, Shinsen Ifuji
Publisher: SQUARE ENIX
Planned Release: 6/3/2023
---
These manga will be available to read on comikey.com, as well as the Company's mobile app—available on both iOS and Android.
About Comikey Media Inc.
Founded in 2020, Comikey Media Inc. is a US-based comic platform that aims to publish comics from around the world in manga, webtoon and manhua format. Chapters are released in English, Portuguese, Spanish, and Indonesian, with future plans to expand into other languages. With decades of experience and a proven track record, their worldwide team has delivered over 500 titles to users on their mobile app and website.